Hi Edie!
Arrow is an absolutely lovely puppy and we are so very pleased with him! He is such a sweetie..
He is my dad's pal, and my daughter's playmate! He is awesome. I've sent some pictures for you to see, some are very large and I don't know why. He has graduated from grade 3 of training. My husband has built a small structure for him to walk around and practice his LEFT and RIGHT commands.. although I am still working on having him come when he's called (and distracted) so he is very much on a leash when outside of our yard or up north.
He is a lovely dog. People often stop and tells how beautiful he is (which is true!) One of his best qualities, for me, is the fact he is soo quite. I had him at the vet for heartworm testing this spring … and he sat there so calm and quiet in the waiting room – while a small long haired dachshund was barking himself horse at the sight of Arrow. He is a very good dog! We are very lucky to have him.
Hopefully the pictures brighten your day!
Allison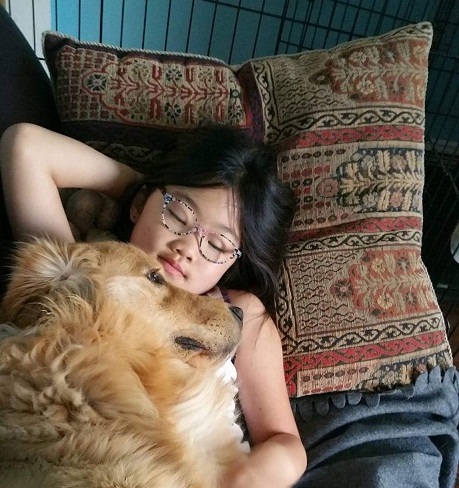 2015:
To:baileymistgoldens@live.com
Subject:Riley Levin
Dear Edie
I have the privilege of caring for the Levin Family. I want to thank you for picking Riley for us. You couldn't have picked a more perfect puppy! She is the most playful, happiest, and sweetest. Smartest love bug. She has brought so much joy and love to the Levin Family and to me.
When Riley first arrived it was no time at all before she was potty trained. She has also learned how to shake, to sit and stay when I answer the door and to come when she hears her to short signature whistles. Edie you would be so proud of her, she is so smart.
When I arrive in the morning she puts my wrist in her mouth and walks me around in a circle because she is so happy to see me. I always take Riley and Miss Molly out first thing.After doing their business Molly takes off to play a game of "catch me if you can". They run all over the yard after each other. Sometimes Molly will hide behind a bush. It is so funny watching Riley girl trying to find her. Riley loves to play with just about anykind of toy. She just got a new balllastWednesday. It is a large green see through ball with a tennis ball on the inside and a handle on the outside. She has had so much fun running after it and bringing it back with her tail wagging. The look on her face is a happy one like "this is thebest ball ever!" She can pick it up and carry it with her wherever she goes.Riley loves to go on walks and has to stop and smell everything Molly smells. She loves her best friend Molly and Molly loves her.It really does not matter what Riley is doing she is always happy.
All through my day I stop, and talk to, and gives hugs and kisses to both Riley and Molly. Usually ifMolly is taking a nap Riley willcome and find me where ever I amfor a hug and some extra attention. Riley will take a nap with Molly just after lunch. It isa beautiful sight to see them be so happy and content lying next to each other.Sometime Riley girl likes to rest her head on Mollys back, or front paws oron wherever she can on Molly. She loves knowing her Molly girl is next to her.
I just want to thank you again for the most wonderful Riley girl. I love her very much.She is truly a Blessing to all of us.
Sincerely,
Kathy Lewis